Girl who made the 'very rare' discovery will receive financial compensation, though the amount has not been made public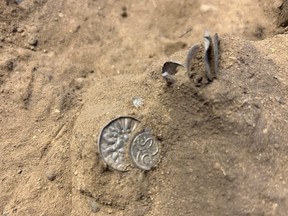 Article content
Nearly 300 silver coins believed to be more than a century old will soon be on display at Denmark's Aalborg Historical Museum.
Article content
Possible Link To Jesus' Midwife Unearthed In Israel
The coins were discovered at two sites last fall by a young girl metal-detecting in a cornfield near a Viking fortress site in northwest Denmark, according to Agence France-Presse.
The girl who made the "very rare" discovery will receive financial compensation, though the amount has not been made public.
The find, discovered about eight km from the site of Viking-Age fortresses built around 980, includes Danish, Arab and Germanic coins as well as jewelry from Scotland or Ireland.
RECOMMENDED FROM EDITORIAL
Cave find suggests humans lived in North America 30,000 years ago, not 15,000
The Viking fortress, Fyrkat Viking ringfort, is believed to have controlled traffic on the main land route between Aalborg and Aarhus, two of Denmark's largest cities.
JOIN THE CONVERSATION
Have your say. Leave a comment and tell us what you think.
Article content
Lars Christian Norbach, the director of Aalborg Historical Museum, called the find "very rare" and said it could offer greater insight into the history of the Vikings.
Archeologists are still exploring the area near the small town of Hobro in northern Denmark and are hoping to uncover the burial sites and homes of the troves' owners. According to the museum, each collection of coins and jewelry was found less than 50 metres apart and were likely spread out due to agricultural plowing in the area.
The cut-up jewelry is believed to have served as a means of payment by weight.
In total, the two collections contain nearly 300 pieces of silver, including 50 whole coins. The Danish coins include so-called cross coins struck under King Harald Blåtand in the 970-80s. The coins were in circulation for only a few decades.
Article content
Two pieces of silver jewelry, each weighing about 70 grams, were cut from an unusually large ring pin, featuring two ornately braided silver balls on a small piece of silver rod.
According to the museum, these types of pins were commonly used by men at the top of society, such as bishops and kings, in Viking Age Ireland and on the neighbouring islands.
Archeologists believe the jewelry likely originated from a raiding expedition, which is why the jewelry had been chopped into pieces.
"The Danish Vikings did not appreciate the fine artistic details of the jewelry. For them, it was only the weight of the silver jewelry that was important," notes the museum's website.
Archeological investigations in the area will continue in the fall with support from the Danish Ministry of Culture.
The collection will go on public display at the Aalborg Historical Museum beginning July 1.